Gone are the days when battle royale games were available just for the PC and consoles. Now, with the evolution of smartphones, this genre has successfully arrived on mobile platforms, making heart-pumping action just a tap away. With numerous games vying for your attention, it can be challenging to zero in on the best one to fit your preferences. Here's a curated list of the top 10 battle royale games for mobile that has managed to impress with their engrossing gameplay, stunning graphics, and unique features.
1. PUBG Mobile
PUBG Mobile stands as the benchmark for battle royale games on mobile platforms. Modeled after the popular PC game PlayerUnknown's Battlegrounds, PUBG Mobile immerses the player into a highly realistic, expansive battleground. The game allows up to 100 players to compete at once, fighting for survival until the last player or team prevails. Its wide variety of weapons, vehicles, and gear adds extra dimensions to the gameplay while relatively smooth controls and realistic graphics enhance the immersive warfare experience. The game also offers a range of modes, including Classic, Arcade, and EvoGround, catering to different tastes and styles.
2. Call of Duty: Mobile
Call of Duty: Mobile is another front-runner in the mobile battle royale genre. Rooted in the globally acclaimed Call of Duty franchise's legacy, it delivers a complete, console-like experience for mobile devices. The game offers a high-quality multiplayer mode alongside a competitive battle royale mode, where 100 players battle on a map comprising of locations from previous Call of Duty games. Its top-tier graphics, comprehensive controls, and variant game modes (like the Zombies mode) contribute to an unparalleled mobile gaming experience.
3. Garena Free Fire
Known for its swift matches and intense gameplay, Garena Free Fire holds a significant place among its contemporaries. Featuring 50 players fighting on an isolated island, the game delivers a concise yet intense battle royale encounter in a 10-minute frame. The game introduces engaging elements such as character abilities, pet companions, and unique weapons, which it integrates into its fast-paced, survival-focused matches. Pair this with its clear and adjustable graphics, and Free Fire makes for a thrilling ride.
4. Fortnite
Fortnite's mobile version effectively captures the essence of the popular PC and console game. Known for its unique, stylistic graphics and versatile building mechanics, Fortnite stands out in the battle royale genre. The mobile variant provides the same 100-player matches with the added component of constructing structures from gathered materials on the fly. The game's vivid aesthetics, extensive character customizations, and engaging seasonal events render it an enjoyable alternative to realistic-style combat games.
5. Rules of Survival
Rules of Survival is best known for its massive 300-player matches, the most substantial in the mobile battle royale genre. Set on a large, comprehensive map, players have to strategically survive against a larger number of opponents. In addition, the game incorporates a solid variety of vehicles, weapons, and equipment. These exciting elements combine with extensive customization options and smoothly scaled graphics for an experience that's both comprehensive and rewarding.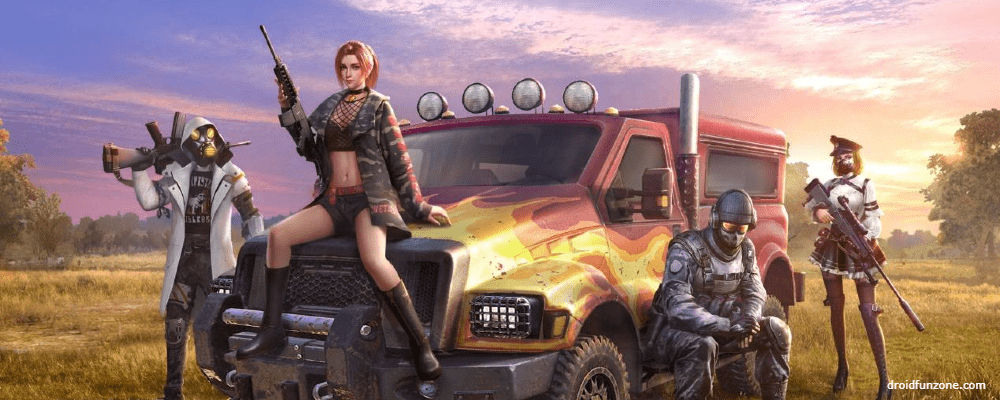 6. Knives Out
From the creators of Rules of Survival, Knives Out presents another substantial large-scale battle royale experience housed on diverse and sprawling maps. With 100-player format matches, it offers authentic, survival-based gameplay. With its assortment of five-member teams, multiple game modes, and a rich collection of gear and weaponry, this title offers an exciting battle royale blend that's indicative of the genre's unlimited potential.
7. Cyber Hunter
Cyber Hunter stands out for its futuristic, sci-fi-influenced battlegrounds and unique game mechanics. In addition to the traditional combat elements, players can climb walls, glide through the sky, and even fashion structures to protect themselves or gain strategic advantages. Moreover, its vibrant, eye-catching graphics and innovative approach to the genre make it a must-play for battle royale enthusiasts on the hunt for something fresh.
8. Battlelands Royale
Battlelands Royale offers a simplified, casual take on the battle royale genre. While most of its counterparts frame matches within large-scale, long-lasting encounters, Battlelands features quick 3-5 minute matches with 32 players. Its cartoon-style graphics and easy-to-master, top-down gameplay make it highly accessible. Combining these appealing aspects with its compact, fast-paced battles, the game provides a refreshing take on the oft-intense battle royale style.
9. Survival Heroes
Offering a compelling mix of battle royale and MOBA (Multiplayer Online Battle Arena) elements, Survival Heroes presents a unique gaming experience. In this game, weapon choice significantly influences game progression, in contrast to leveling up characters. The result is a hybrid game that combines the best aspects of both genres – the intense, last-man-standing fights of battle royales and the strategic, RPG-style gameplay of MOBAs.
10. Pixel's Unknown Battle Ground
Celebrated as a blocky, pixelated alternative to traditional battle royale games, Pixel's Unknown Battle Ground offers a unique graphical approach. Despite its cartoonish pixel graphics, it delivers intense 100-player battles on a widespread map. This title features a vast array of weapons and vehicles, easy controls, and a comprehensive auto-shooting system, ensuring an exciting gaming experience despite its simplistic look.
Conclusion
Through their impressive gameplay mechanics, engaging features, and distinct styles, these top 10 battle royale games present a variety of immersive experiences. Whether you prefer hardcore combat like PUBG Mobile and Call of Duty: Mobile or seek something more casual like Battlelands Royale, there's a game on our list sure to suit your taste. These games exemplify the best of what the mobile gaming platform can offer, transforming your device into a virtual, portable battleground for on-the-go thrills. So get ready to jump in, strategize, fight for survival, and experience the unmatched excitement of the battle royale genre.