Gamers or not, we humans are going through changes from time to time. We relocate, change jobs, convert, fall in love or out of it, and so on. For gamers, the new game name may be just as epic as any other life change. So what about a manual on how to change Epic Games name?
The first thing you need to know is that changing your name is allowed and possible on Epic. The second thing to know, though, is that the only place where you can do it is the website. That's the way it is.
What Is an Epic Games Display Name and Why Change It?
As you register on Epic Games, the system creates your unique ID. It is used for internal purposes and has to be unique and unhackable. That's why it looks like such nonsense of random characters.
On the contrary, your display name should make sense. It has to be unique, too, but only for the moment: If suddenly someone changes the name you wanted, you can grab it while it's available. With ID's, these tricks won't work. Your ID is only seen by the system; your display name is public. That's why you both can change it (your unchangeable ID grants the continuity) and sometimes may want to (for example, if the old one doesn't reflect your status or your values anymore).
How to Change Epic Games Username on the Website
It's the most common way to change Epic Game name. Just like it is with payments, Epic relies on its website now, not on official, let alone unofficial apps (we'll return to it later). To get yourself a new player name, do the following:
2. Click the "Sign In" link in the upper right corner of the page.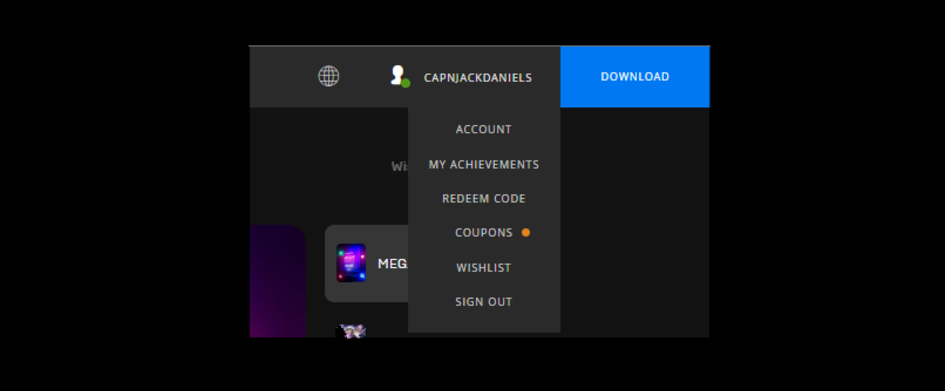 3. Log in the way you do it (directly, or with Facebook, Apple, Google, etc.).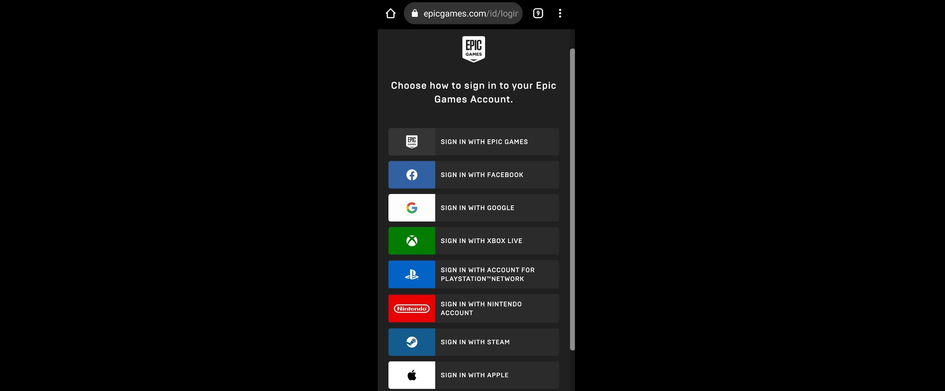 4. Move the cursor to your profile link (the one with your name) in the upper right corner.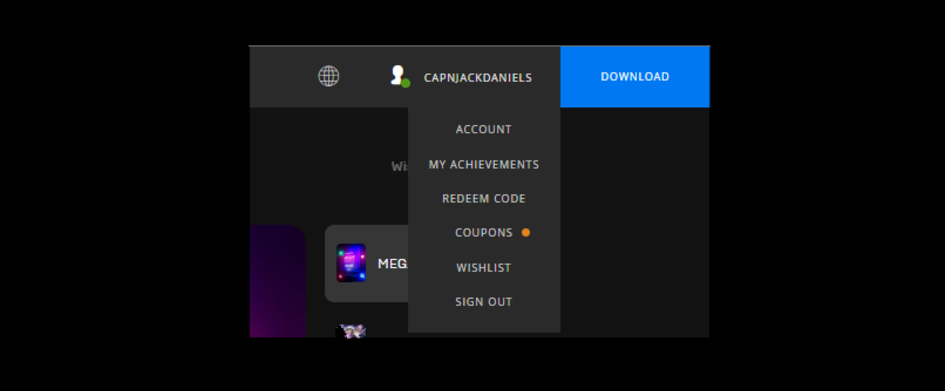 5. In the dropout menu, click "Account".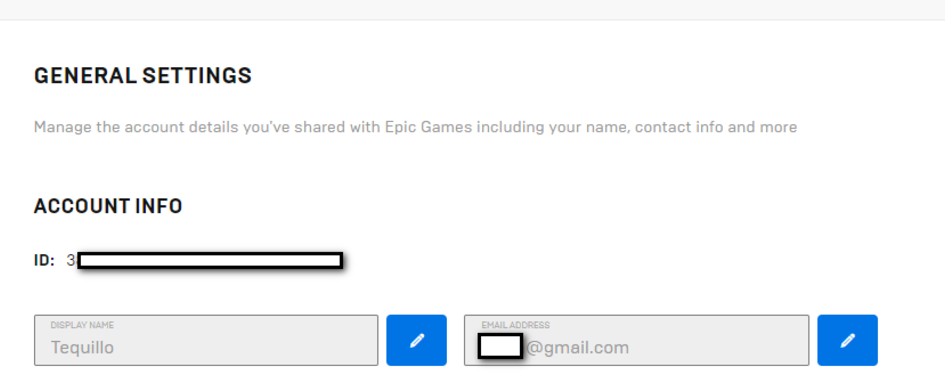 6. When the page loads, click the "Edit" icon to the right of your username (with a pencil on it).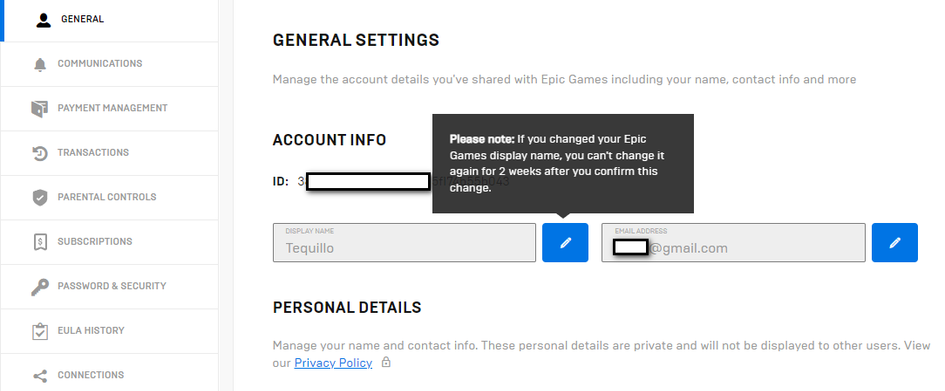 7. Enter and confirm your new name. The names in both fields should match.
8. Tick the box under the fields (to acknowledge that you understand you only can change your name again no sooner than in two weeks).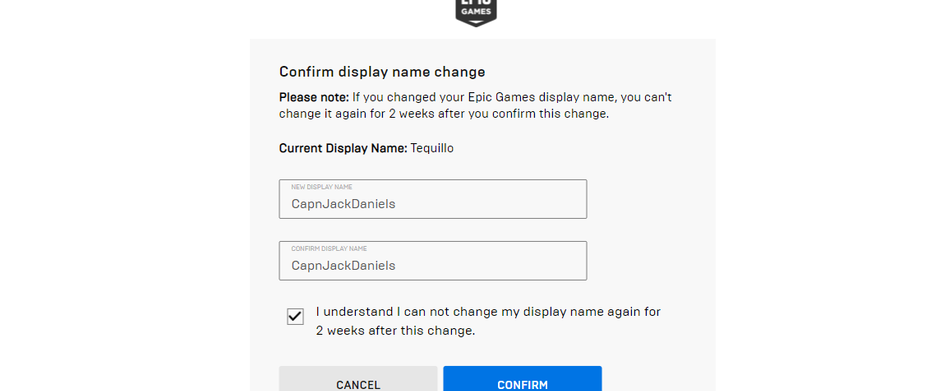 9. Click CONFIRM.
10. Enjoy your new username!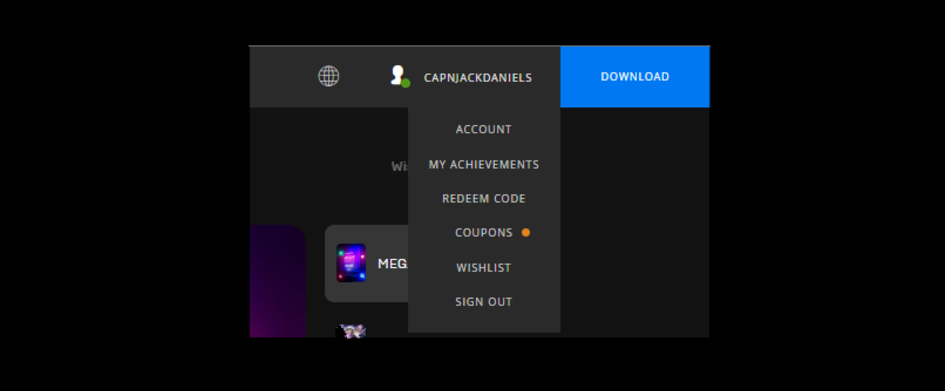 Here you are: your new username is here for everyone to see in the next two weeks. Then (if you review your decision), you can return to it again.
How to Change Epic Games Username in the Application (Windows 10/11)
If you have the application on your PC and Mac, you probably stay logged in. If not, logging in works just the same way here.
1. Run the app (the pictures are made with Windows 10, but we guess you'll figure it out on Windows 11 easily).
2. When it loads, click the "Sign In" button in the upper right corner. Though chances are the application keeps you signed in.
3. On signing in, move the cursor to the "Account" button that appears instead of "Sign in" and click the "Account" link from the dropout menu.
Here your Epic name change story returns to the old routine. The funniest of it all is the fact that after clicking the "Account" you get redirected to the web page (if your browser has been closed, it will reopen). Then you only need to go through stages 4-8 of the previous section. No, the application does not allow for changing your name, as well as other parameters. It's only done on the website.
How to Change Epic Games Username on a Mobile Device
As you know, Epic Games is now in a state of conflict with the leading mobile platforms, namely iOS and Android, and new lawsuits are possible in addition to the latest ones. That is why one has to download Fortnite as a separate APK file to play Fortnite on Android, and on iOS it is impossible at all. So, the only way to change Epic Games name using a smartphone or a tablet is using your browser.
1. Open the Epic Games website.
2. Tap the menu in the upper right corner.
3. Tap the "Sign in" button at the bottom.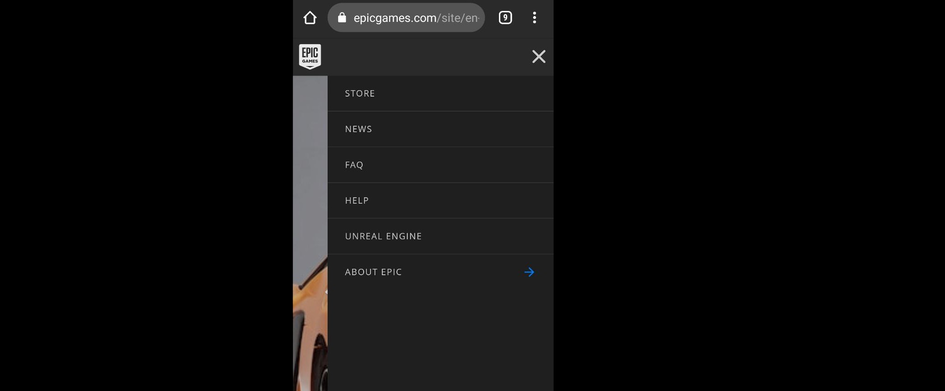 4. Log in (the way you usually do).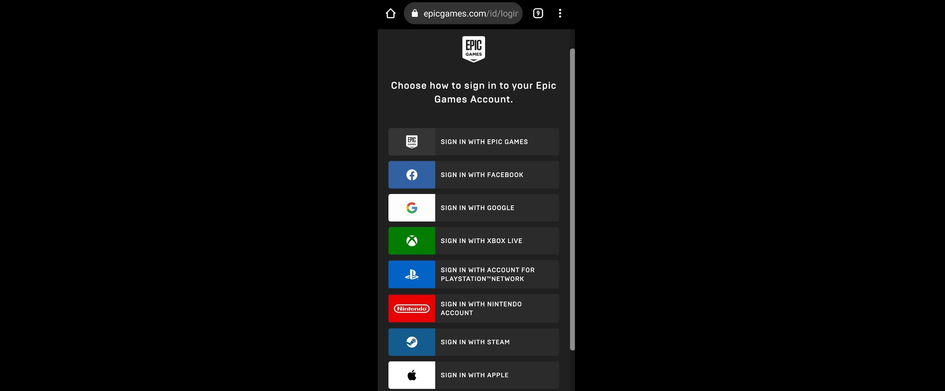 5. Tap your username and choose "Account" from the dropdown menu.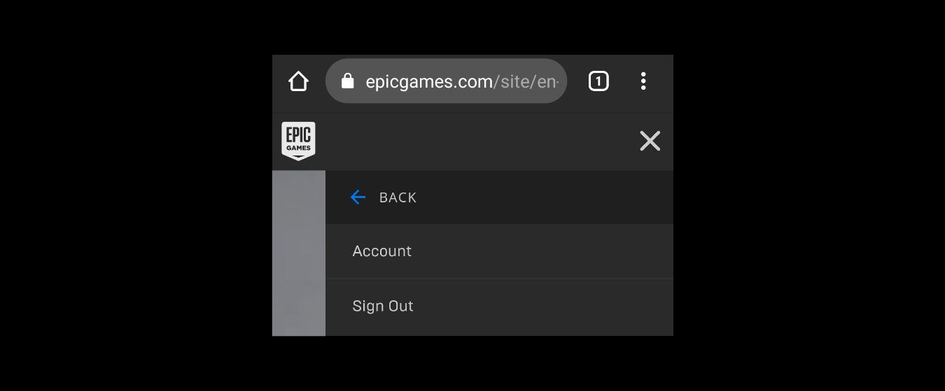 6. Tap the "Edit" button to the right of your username.
7. Enter the new desired username and confirm it. Tick the box below.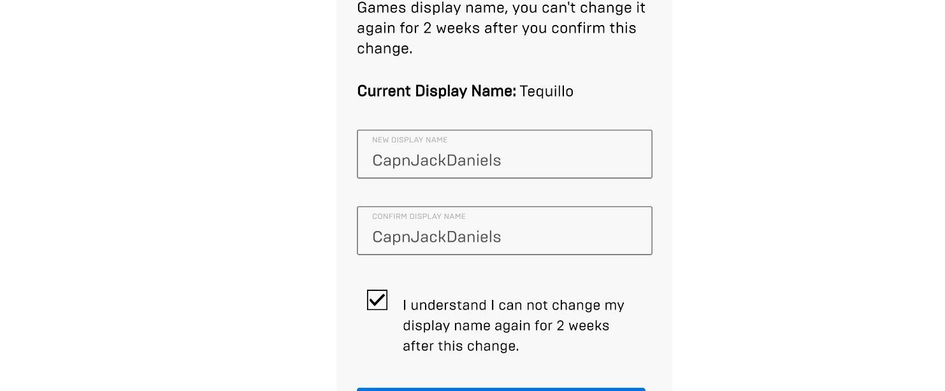 8. Tap the "Confirm" button at the bottom.
As you see, the algorithm is exactly the same as on a PC or Mac. The only difference is the appearance. So, the only reason we basically repeat the instruction on how to change the display name of your Epic account on a mobile device is to show you exactly how to do it with every possible screenshot.
So, exit Tequillo, enter CapnJackDaniels! Don't try to befriend me under this name: By the moment you're reading this, it's gone as well. Because I know how to do it now, and so do you.
How to Change Your Epic Games Name on a Console
As you run Fortnite or another game by Epic on your PlayStation, Xbox, or Switch, you don't have to create an Epic account. But if you want to enjoy the seamless experience throughout various devices, you may create your account on Epic's site, with the built-in browser. And only then can you change your Epic name on a console. But as you'll have to use a browser, the experience will be similar to that on PC or Mac. So you better have a keyboard and a mouse connected to it.
You can adjust your preferences in games separately on consoles. But to consolidate (pun intended) your accounts in the Epic one, you'll still need to go through the browser. And only then should you link your created account to your console. It's a topic for a separate manual, though.
What Your New Epic Games Name Should Be
If you invent a new name, you should make sure that it is appropriate and unique. The full guidelines can be found on the Epic website, but here are the essentials of good naming.
Unique! To save dozens of attempts, unleash your fantasy. Various Warriors, Fighters, and Killers are in abundance. Your name (yes, last and even middle too) is not that unique. Numbers may reveal too much of your data. Characters of the game are already taken. But your imagination will find the way.
Avoid senseless character sets. Your name should easily slip off the tongue. Especially, if you aim to become a popular streamer.
Adding a dot in the beginning or in the end won't make them think you're that person you want to pretend. These tricks are banned. Get yourself something truly yours!
No offensive language. No need to explain, I hope. And if you think replacing U with V will work, then no it won't.
FAQ
Changing your name online may be just as confusing as doing it in real life. Cassius Clay going Mohammed Ali is one of the most reasonable examples; but what about Prince who became an unpronounceable sign? Or how does it feel to think of Kanye West each time you say something like "ye"? Of course, this act will raise many questions, and doing it online has its specifics.
How often can I change my name?
According to the rules, you may only change the name again after two weeks. On the other hand, why not invent a name that will stay relevant for longer?
Do I have to change my name if I change my email?
No, these two entities are editable separately. That's why there are separate "Edit" buttons for each of them.
Will my friends lose me after I change my name?
No, because you only change your display name. Your ID remains the same. So your friends' list will remain the same.
Will my profile stay linked to a console after I change the name on the PC?
Yes, it will, because your authentication uses the ID, not the display name. More than that: It's easier to do it on a PC than on a console. Even on a smartphone, it's much easier. The changes will not reflect on your general console account. It will only impact games by Epic.
Can Epic Games change the name and other data without my consent?
No, but it can block your account because of violating the rules. So you better double-check the name you have invented.
See You in a Fortnight!
It's ironic that a two weeks period sounds the same as Fortnite. It's the ancient short for "fourteen nights"; should I go on? This minor observation won't let you forget how often you are allowed to change your profile name. To remember the rest, bookmark this instruction.
And remember that no matter which changes you go through, your current name may be the one you're remembered under, even if you change a hundred names later. So choose your name responsibly and whatever you are – a hardcore player, a streamer, a reviewer, or just a casual one – play epically!